One of the real surprises at the recent "D is for Digitize" conference was the presentation by Daniel Reetz of his DIY Bookscanner project.  I don't spend as much of my time tracking scanning developments as I used to, but his project was all new to me.  His presentation, which begins at about 46 minutes into the video, is well worth watching if you are at all interested in scanning technologies (or want to learn how to give an entertaining talk at a conference).
Daniel was kind enough to comment on my brief report of the conference, and I responded briefly to his remarks there.  His project, however, is worth more description, even if it is a little off-topic for this blog.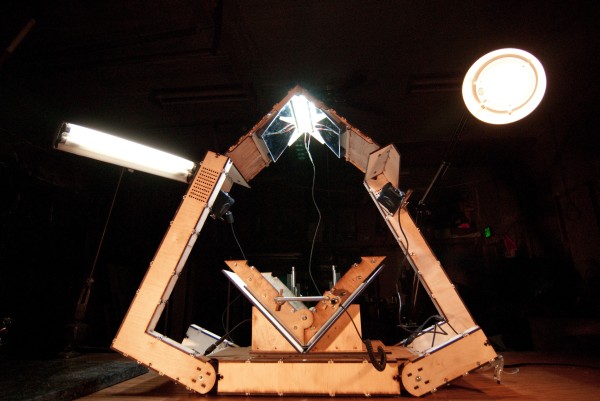 After first constructing a book scanner from scrap, Daniel has since created a portable, machined, sophisticated book scanner that is still a do-it-yourself project.  It uses digital cameras and a book cradle to allow one to generate images that software can combine into a PDF of a book.  The specifications and instructions are freely available.
Daniel's set-up is not going to be a replacement for the high-end robotic scanners from Kirtas, Treventus, Qidenus, 4DigitalBooks (which are compared in a useful report by Julian Ball), and certainly not for the 1,000 pages per second(!) Japanese scanner discussed by Jill Hurst-Wahl.  It is probably not a replacement for high-end manual face-up scanners such the one Digital Fusion used to scan Jung's Red Book.  (And if you want to see an over-the-top video of scanning, one that makes the activities that take place in hundreds of libraries every day sound like it is of earth-shattering importance, watch this.) 
One does wonder, though, whether DIY scanning might be an affordable alternative for libraries that can't afford things like the I2S Copibook or Zeutschel's or Atiz's book scanners (including their consumer model).  It could also be an alternative for those who have aging Minolta PS3000s and PS7000s. 
Let's hope that someone conducts a formal evaluation of DIY bookscanning and its possible applications in libraries.  As digital cameras decrease in price and increase in performance, I am willing to believe that a camera-based scanning system could come close to competing with professional products.